How working on a superyacht primed me for living in a bus.
A few years ago I worked as a stewardess on superyachts as a way to fund my travels. I would spend a few months licking the arses of the mega rich and living in a shoebox so I could travel for double that time. Here is an interview for those interested. I did two Mediterranean seasons and one two week stint in Miami before I suddenly flew home on an intuitive call and within a few months and many strange twists of events, I ended up with a bus that I now call my home.
Note - these photos show 2% of the life of a yachtie, the rest is scrubbing toilets.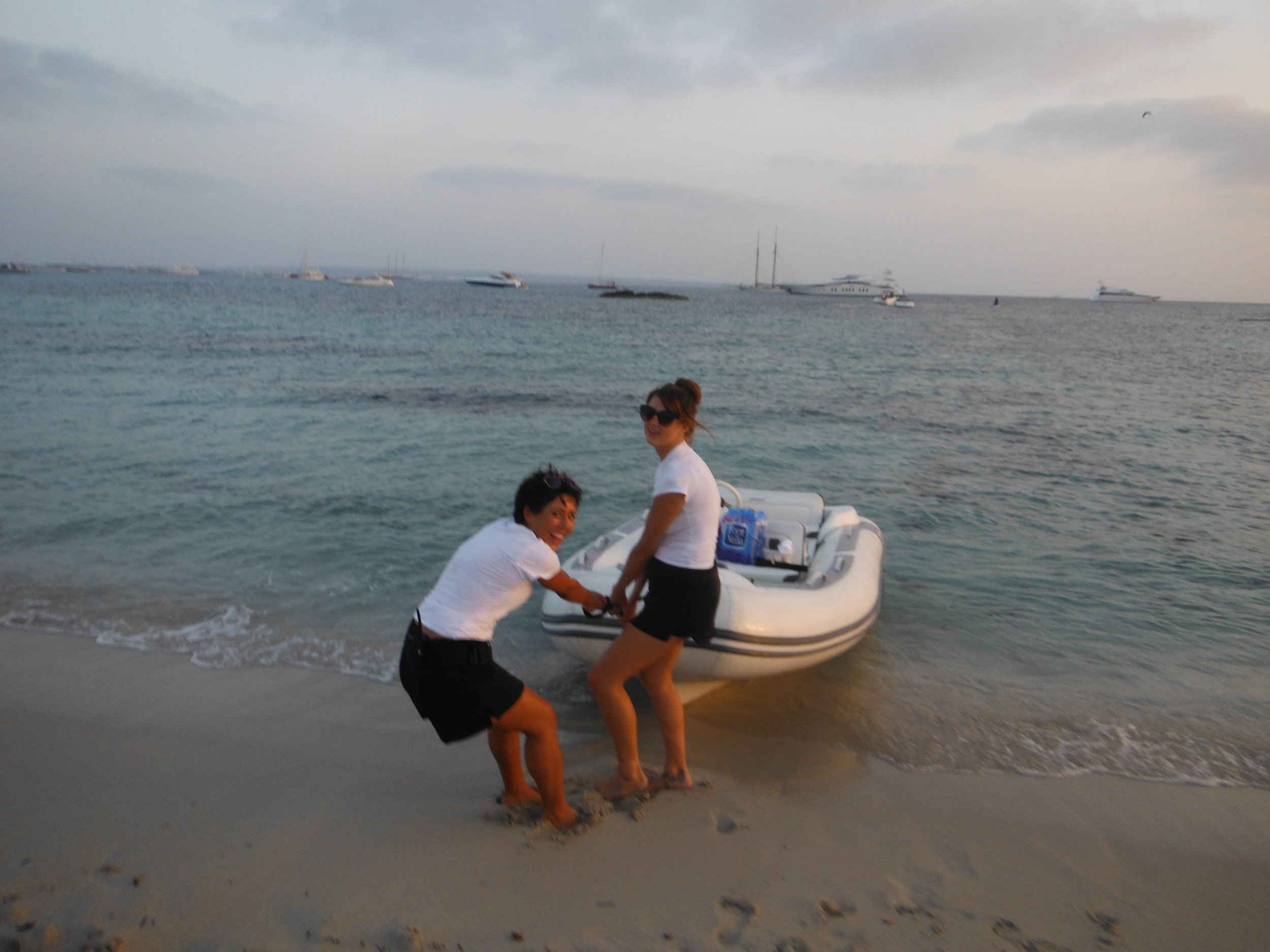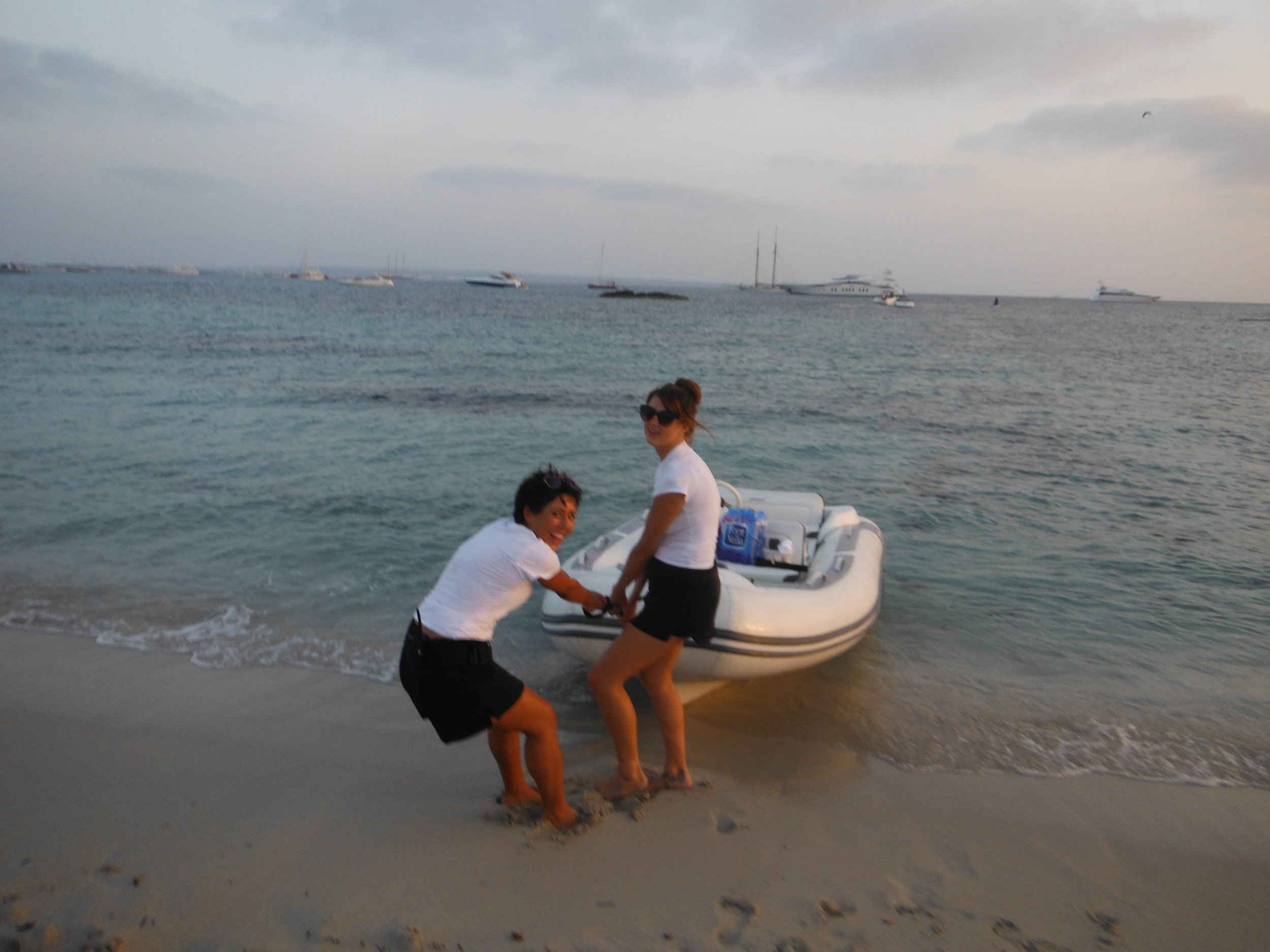 Living in a small space.
On a superyacht, the crew live in tiny cabins. The second boat I worked on we had one tiny cupboard for a wardrobe. Everything you own (plus crew uniform!) has to fit inside the tiny wardrobe or in little shelves beside your bed. This means you have to be totally ruthless with what you own. I wasn't all that good at travel packing at that time and my 20kg of pointless shit had to go somewhere! After that, living in a bus is great. I still have about the same amount of space to put my clothes, but I can also have a whole load of other possessions that mean a lot to me. Books, stones, cooking stuff, art materials, animal skulls, trinkets. It does mean I have been a lot more ruthless with what I own - no space for "maybe" objects, particularly because art materials take up most of my storage space.
Stowing for sea. When a yacht is about to go somewhere, particularly to do a crossing where it could be rough, the stews go around the whole interior and make sure everything is stowed correctly. This means the expensive vases get wrapped in towels and squished in the couch cushions. The crystal glasses, already in sea-proof storage, get rags put between them in case of huge waves. All the cupboards get locked and sometimes taped over, and you better make sure your laptop is wedged between your mattress and the wall, all the portholes are closed and all your trinkets are put away.
Driving a bus I've found much more forgiving, gravity is a wonderful thing and most of my stuff stays where it is put. I have a whole range of objects that hang on hooks and somehow stay on the hooks while I'm driving. I still squish my laptop between the couch and the wall and my cauldron often falls over with ash going everywhere if I don't secure it. If I forget to lock my cupboards or toilet door you can bet I'll be pulling over in the next 2 minutes to do so. Once my cupboard door flew open and my washing detergent flew out and went everywhere, mirroring taped cupboards I have seen fly open in rough seas, emptying their contents all over the floor.
A place for everything and everything is in its place. I have become so organised. I know where all my shit is and have even made extra storage to suit my needs. I designed (and my Dad made) this painting cupboard to fit the space so I wouldn't have to pack away my paint if I wanted to drive somewhere. My spices live on custom made racks because a. its pretty and b. it saves a HEAP of space. Every little hole is filled with something. The little crevice under the bed beside my water tank is filled with spare blankets and tarps, every seat has a storage space underneath it and is filled to the top. The toilet also houses my easel, old lady shopping trolley and my table when its not being used, along with a few spare water jerry cans.
No empty space escapes! If I find a new free space I will brainstorm the best way to use it and rearrange accordingly. The same goes on a yacht, tiny random cupboards in the floor that go on forever, down to the hull or the next level down. I remember opening one triangular cupboard in the corner of the laundry on one boat I worked on, pulling out blankets, chairs, a sewing machine and a few irons before arriving at whatever it was that we were looking for. It reminds me of the tents in Harry Potter that are ginormous on the inside. Its amazing what can fit in a small space with a bit of tetris.
Making the bed - aka Steve Irwin croc wrestling with the bed. In the crew cabins on a yacht there are most likely two single beds in a space 1/3 the size of my bus now. The beds are small and squishy and if you're on the top bunk you're probably going to hit your head on the ceiling when you change your sheets. Pretty much the same technique in my bus bed, but its twice the size with double the head room! Yay.
One vast difference between the way I live now and working on a yacht is the individualistic nature I have created for myself. The bus allows me to live in a way that is TOTALLY me, no question about it. The freedom is incredible. Living and working on a yacht meant I had to compromise and shut down parts of myself to conform to the "way" a stewardess "should" be. Pretty and quiet.
I am an information collector. I have worked for the mega rich and also been a hippie on the dole, and lived in many between states. I've been the farshun girl with the Alexander Wang bag and I've also been the feral art student living on the side of the road. Nowdays I find myself in a balance. I know both sides of the coin and I borrow many parts of each to create the integrated life I live now. All I really know is that I ABSOLUTELY MUST do whatever it is that I want to do, in fear of regret, and following these urges have always led me to interesting places.